Lowered Price of Sheriff Dixon Package – The Suspect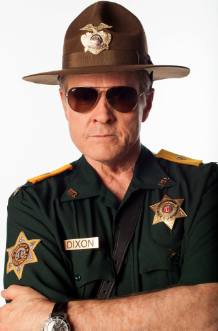 Stuart Connelly, just informed us that the price of the SHERIFF DIXON PACKAGE reward has been lowered! Don't miss this opportunity and get the sheriff's hat, uniform and tag worn by William Sadler in the film, plus a signed script.
"Lowered price of the @Wm_Sadler reward 2 get it within reach of a fan–and get us with reach of goal! http://t.co/NW6AMYxgRq

— Stuart Connelly (@DrumpointIsland)"
Four hours ago, the campaign has passed the $20,000 mark with 23 hours to go. This project will only be funded if at least $25,000 is pledged.
Please tell your friends and don't forget to visit the official Facebook and Twitter pages. You can get some great other props from the movie as well as music, clothing, artwork and more.
© Photo, courtesy of The Suspect Movie
Related News:
"The Suspect" Kickstarter – 11 Days to Go, July 4th, 2013
"The Suspect" – Kickstarter Campaign, June 26th, 2013
"The Suspect" – American Black Film Festival, June 10th, 2013
"The Suspect" – Official Website, March 22nd, 2013
"The Suspect" – Picture From The Set, September 22nd, 2012
"The Suspect" – William Sadler's New Project, September 16th, 2012