Ronald D. Moore – "Helix" Begins Production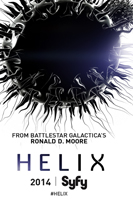 The 13-episode SyFy series "Helix" from Ronald D. Moore is now in production. "The #Helix mystery begins to unravel on our first day of shooting." the team tweeted on August 1st, 2013.
"Helix" is a mystery series about scientists in the Arctic secretly working to save the world.
Ronald D. Moore discussed his new SyFy show at San Diego Comic-Con telling that "they learn that the research that they're involved in has both the potential to save humanity and destroy humanity."
Billy Campbell, Hiroyuki Sanada, Kyra Zagorsky, Mark Ghanimé, Jordan Hayes, Meegwun Fairbrother, Catherine Lemieux and and Neil Napier are starring.
Follow @Helix on Twitter! The series is set to premiere in early 2014 on Syfy.
Related News:
Comic-Con Panels For SyFy's "Defiance" And "Helix", June 30th, 2013
Starz Orders "Outlander" from Ronald D. Moore, June 28th, 2013
Ronald D. Moore's "Helix" is coming in 2014, May 26th, 2013