Kheigl.com: Gertie's Story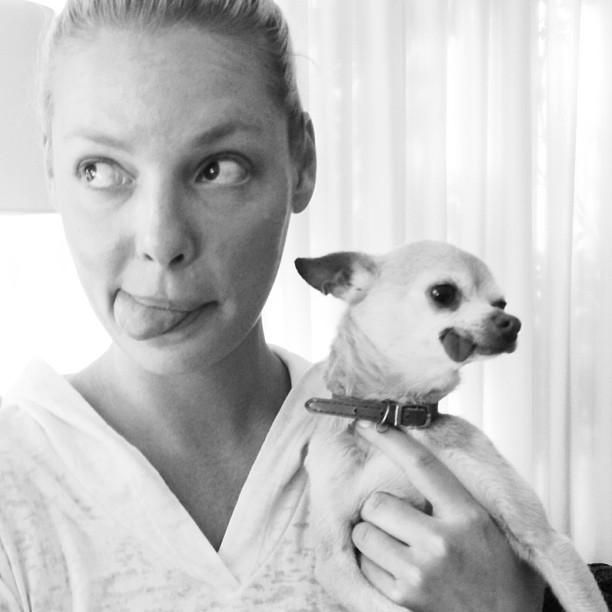 Five month ago, Katherine Heigl shared a cute and funny photo with their then newly rescued dog Gertrude via her Instagram telling "My mom just rescued this silly Chi Gertrude in honor of her Chi Squish who was tragically killed two weeks ago while being boarded. We miss Squish terribly but are grateful for the fun and hilarious spirit of Gertie."
In a new article on Katherine's official website, you can now learn more about "Gertie's Story".
[…] Nancy Heigl, who had contacted Laurel Kinder of Kinder 4 Resce, one of the groups that the Heigl Foundation helps to support, asking for a Chihuahua that no else would take. Nancy likes to take older dogs with health conditions that often require frequent vet bills and special attention that can put off most adopters. A day later Laurel contacted her about a very special Chihuahua that was at the East Valley Animal Shelter in Van Nuys, California.

Volunteers and staff at the facility had fallen in love with Gertie's spritely personality and had already intervened twice to save her life, so they were thrilled to see that this special soul was going to be adopted as she was scheduled to be euthanized the next day. […]
Head on over to www.kheigl.com and find out how Gertie ended up becoming Katherine's shadow. In addition, please visit The Jason Debus Heigl Foundation, Compassion Revolution, I Hate Balls! and find out how you can show your support.
Help save lives and make a difference.
Related News:
Katherine Heigl CIA Drama Found Home At NBC, September 9th, 2013
Katherine Heigl – "Nut Job" Character Poster, August 14th, 2013
"North Of Hell" – Tweets From The Set, May 22nd, 2013
Katherine Heigl Launches The Just One Line Of Pet Products, December 14th, 2012