"Military Justice" Airs November 13th, 2013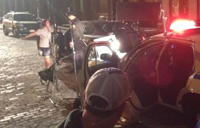 As earlier reported, Shiri Appleby plays Amelia Albers, a junior military officer who's stopped for a DUI, in an upcoming episode of NBC's "Law & Order Special Victims Unit". The episode, "Military Justice," will air on November 13th, 2013.
The SVU writers revealed via Twitter, that they wrapped the shooting of the episode with the very first scene. They shared a photo from the set, as well. Please make sure to take a look.
For this scene, make-up guru Michael "bloodmike" Harvey was "working some bloody magic on Shiri Appleby". Apparently, Shiri didn't remove the make-up after work. Later, she posted "At dinner with my friend @sarahrhoward and we got into a fight over the last bite of pasta. #nbcsvu"
Her "Dating Rules" co-star Martin Starr joked "Keep your friends close and your enemies away from sharp utensils."
Please mark your calendar and check local listings for broadcast times.
Related News:
Shiri's "Law & Order" Episode Will Air In November, October 15th, 2013
Shiri Lands Guest Spot on NBC's "Law & Order", October 8th, 2013