June 5th: Legends Opening Night: Red Carpet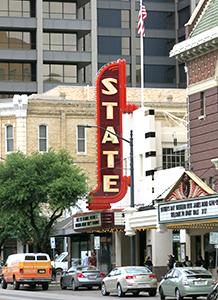 The ATX Television Festival kicked-off with the world premiere of TNT's spy-drama "Legends", starring "Games of Thrones" alum Sean Bean, on Thursday, June 5th, 2014 at the State Theater in Austin, Texas.
Legends
90 min., 101/pilot

"Legends" follows a deep-cover operative named Martin Odum, who has an uncanny ability to transform himself into a different person for each job. But his own identity comes into question when a mysterious stranger suggests that Martin isn't who he thinks he is.
On the red carpet, Nick Wechsler and Brendan Fehr talked to the press about their current projects "Revenge" and "The Night Shift" as well as the "Roswell Reunion". Please make sure to watch some interviews with Nick and Brendan below.
The former "Roswell" actors were joined on the red carpet by Louanne Stephens, Derek Phillips, Adrianne Palicki, Hayley Orrantia, Wilson Cruz, Troy Gentile and Brenda Strong.
The upcoming series "Legends" was executive produced by Homeland's Howard Gordon and Alexander Cary and will premiere on TNT Wednesday, August 13th, 2014 at 9 PM.
© Photo by Lena
Legends Opening Night – Red Carpet Interviews
Via The Televixen:
[…] We talked about being on a series like Roswell before events like Comic-Con were on everyone's radar, and about his character on The Night Shift. […]

Read more: ATX Red Carpet Chat: Brendan Fehr (The Night Shift, Roswell)
---
Via Danielle Turchiano:
"I caught up with Nick Wechsler at the ATX TV Festival to talk about what he thinks will happen to Jack when season 4 of 'Revenge' starts (hint: jail but what about David Clarke!?), as well as 'Roswell' 15 years later, still finding new fans."
---
Via Allison Nichols:
I had the privilege of speaking with Brendan Fehr who plays Drew on "The Night Shift" at the opening night red carpet at ATX Festival. Be sure to check out the video to also hear him chat about Roswell. […]

Read more: ATX Festival 2014: Brendan Fehr on his character Drew on 'The Night Shift'
---
Via Celebified:
Celebified was in Austin for the 2014 ATX Television Festival where we chatted with our favorite Revenge star, Nick Wechsler. Hear what he had to say about Charlotte turning Jack in and how you shouldn't rule out love for them just yet, how the show can't bring back Conrad, and whether or not we can put Jack & Emily getting together to rest.
Related News:
June 5th: ATX Party Plane – Next Stop: Austin, TX, July 2nd, 2014
A Love Letter to ATX Television Festival, June 27th, 2014
ATX Television Festival Day-by-Day, June 17th, 2014
ATX Television Festival 2014, June 15th, 2014