Transcript: Facebook Q&A with Katherine Heigl
On November 1st, 2014 Katherine Heigl answered fan questions during a Facebook Live Q&A which lasted over two hours. We posted some of her answers earlier this week on Crashdown.com and now you can read a full transcript below.
Katherine gave some insights on her upcoming NBC CIA drama "State of Affairs" and answered many other questions.
Have you seen her answer to Josh's question?
Josh: I absolutely loved you on Roswell. That show is still one of my top favorites even after all these years. My question to you is: What was your experience like during those years, and do you ever miss playing the role of Isabel?

Katherine: I love that you loved that show! It was my first series regular role on television and I was YOUNG!!! We did the pilot when I was 19 and finished the series by the time I was 23 I think? It was a crazy, exhilarating, and special time in my life. I'll always be grateful for the opportunity to play Isabel and work with such a fantastic cast. I learned a lot about myself as a performer, lessons that are invaluable to me today!
Katherine's new show "State of Affairs" debuts November 17th, 2014 at 10/9c on NBC. Don't miss the teaser clips, which are released daily on the web. Follow Katherine Heigl on Facebook and Twitter and check out the official social media pages for the show as well:
www.facebook.com/NBCStateofAffairs | twitter.com/NBCStateAffairs | instagram.com/nbcstateofaffairs and stateofaffairs.tumblr.com
Transcript
Sheila: If you're on a boat with TR and Justin, then a big wave came and you have to choose one person to stay and be kicked out of the boat, who would it be?
Katherine: I'd throw myself over!
Karolina: How many dogs do you have?
Katherine: I have 8 dogs… yeah 8.
Elita: are you in touch with anyone from grey's still? T.R is the one I see you most with.
Katherine: T.R is family! He's my daughter's Godfather and one of the best friends I've ever had!! Justin and his lovely wife Keisha are good friends, Kate Walsh is my lady hero! I pretty much love everyone else on Grey's! Great cast, great group of people!
Thomas: My wife is currently deployed to Afghanistan but just want to say your an amazing actress we both love all your work.
Katherine: Well I love you and your wife! I'm so grateful to her for the sacrifices she has made on behalf of every single one of us in this country!
Donna:If u could pick ur ideal person or persons (dead or alive) to work with in a film or series who would they be + what was/is it about them that influences or inspires u? xxx
Katherine: Audrey Hepburn I think. She was so effervescent and classy, with such perfect wit and timing!
Emily: Would you ever work with Justin Chambers again? Love you two together!
Katherine: I'd love to!! He's not only incredibly talented but has one of the biggest and best hearts in Hollywood!!
Guy: Well that's interesting, I had no idea that you and Adam Kaufman grew up in the same town, cool!
Katherine: We did! Went to the same high school, new some of the same people, he even hung out with my brothers!
Amy: In State of Affairs, will you have a romance outside of your work that might have any drama or comedy mixed in?
Katherine: Right now the romance is tied pretty closely to Charlie's work which makes the stakes of that relationship very high, but there are moments here and there for humor!
Dean: What have you directed??
Katherine: Only my husbands music video for a song he wrote for our daughter Naleigh. Crazy fun experience that taught me I have A LOT to learn about directing!!
Fiama: I love you so much and can't wait to see you in State of Affairs. Are you still here answering? I think I'm late!
Katherine: I'm here!! And so glad you're excited!! Can't wait to air so you can all see this thrilling story we've been working hard to make great!
Jessica: Did you have have special training for the character for state of affairs?
Katherine: I've had dialect coaches, gun handlers, and ex CIA guiding me and showing me the ropes!
Asma: I just want to say that I love you as an actress & you really seem like a nice person, my favorite movie of you(ps: I love all of them) is the ugly truth, much love
Katherine: Thank you so much!! I love hearing that and am grateful for the support!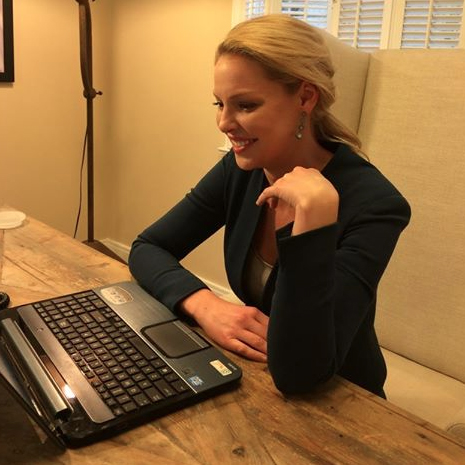 Sarah: Do You Like France ?
Katherine: LOVE LOVE LOVE France! Hoping my husband will take me soon for our anniversary!
Paul: How will State of Affairs differentiate itself from other shows of the same tyes of shows (Madam Secretary, Homeland, etc? The trailer and pre-released footage looks great and definitely a show I will watch. But…too many shows look good in the beginning and loose steam after a few weeks only to be cancelled. How will this show keep the fans interest?
Katherine: You are so right and I think for us the goal is to be aware of that possibility and do everything we can to make each show better than the last! The story just keeps getting more and more intriguing, mysterious, wrought with tension, romance and mistrust. Joe Carnahan our creator and director has a huge hand in making each episode feel like a 45 minute movie and all our writers, actors and producers are putting their all into delivering thrilling, moving, mind-blowing entertainment week after week!
George: Hello, Katherine ! The first thing I would like to say, if I may, is to congratulate you for all the helpful things you do, your unperverted beauty and your joyful way of being. I want to know if you wish to play someday a selfless character as was Izzie from "Grey's Anatomy"- not a character just like Izzie, but a character having her selflessness. And I want also to know if you have any plans to embark on a world tour (to promote your new show "State of Affairs", your animal welfare work or simply to promote yourself as an actress). I'd very much like you to visit my country. Thank you!
Katherine: Thank you so much that's so kind of you! I hope all my characters have some sense of decency, compassion and selflessness despite whatever their flaws are. I'd love to do a world tour and visit your country! I'll keep you posted if plans for that are made!
Madisen: I've heard rumors that your very rude. What's your thoughts?
Katherine: Yeah I've heard those too…honestly I don't think I am…nothing makes me more uncomfortable than confrontation or hurting someones feelings and I would never, ever actively do so on purpose. Of course just like any human being I've made mistakes and unwittingly or carelessly spoken or acted but I always try to make any wrong right. That doesn't mean I won't stand up for myself by drawing boundaries and asking to be treated kindly and respectfully but I don't do that with any rude or unkind intentions just with the same strength and honesty I think every one of us is entitled to.
David: What attracted you to State of Affairs? The commercials for it have me excited. I missed you on tv. P.S. Thanks for all you do for animal rights.
Katherine: There is so much about the story and the character that drew me in! I love that Charleston is a strong, intelligent, powerful woman who has these weaknesses and vulnerabilities. I love her patriotism and sense of duty and honor. I love her relationship with the president played by the incredible Miss Alfre Woodard. I love the relationships between the other members of the briefing team played by the spectacular Adam Kaufman, Tommy Savas, Sheila Vand, and Cliff Chamberlain. I love how we are delving into current affairs and talking about the world we live in and showing the heroes who sacrifice so much to protect us all!
Gil: How tall are you?
Katherine: 5'8 1/2″ 6′ in heels!
Vicki: No question…just thank u for loving and helping animals
Katherine: Thank you! And any time!!
Shasta: Another question that popped up, would you ever consider holding auditions for us to have a chance to be in the movie with you? That would Rock!!!!
Katherine: Totally! Always looking for new fresh talent!
Tiffany: I loved you in the Bride of Chucky. Would you ever do another horror film??
Katherine: I love a good scary movie! I'd love to be in a really crazy suspenseful one!
Carol: You're my absolute favorite person!
Katherine: You're MY favorite person!!
Melissa: Your acting career is really inspiring. Is it a difficult job?
Katherine: Thank you! It can be difficult but it's never been not worth it!
Acacia: If you weren't my favorite actress, what would you be and why? Also, you should come to New Zealand, We you!
Katherine: I would live in New Zealand and own a knitting store, or a Bed and Breakfast!
Henry: are you liking this new role in State of affairs?
Katherine: I'm having the most incredible time! It's a really important project to me and I'm very very very passionate about it! It's taken about three years to get it up and running and I'm so proud of our cast, crew, writers, and producers! It's crazy when everything comes together in such a spectacular way when just a short while ago it was only a dream you were trying to figure out how to make a reality!
Jennifer: I wanted to know what it was like to work with Gerard Depardieu? My Father, The Hero helped me name my daughter, Nicole, almost 19 years ago. Lol
Katherine: WOW! I love that! Does she make you call her Nicky?! I loved Gerard! He was lovely, supportive and wonderfully kind to me. It was my first starring role and he made me feel comfortable and taken care of!
David: Do you get distressed at how awful people treat animals? I saw a video recently on Facebook of a man kicking and punching a poor dog and swinging him by his back leg and it really upset me. Do you think what you do is catching scum like him?
Katherine: Yes! It disturbs me deeply and a big part of my mother's and my mission is to make sure people who do such atrocious things to innocent animals are caught, prosecuted, and brought to justice! Animal abuse is a felony in America!
Linda: Sequel to "Life As We Know It"…. maybe the teen years?
Katherine: Another great idea!!
Shasta: My questions involves your work with the Jason Debus Heigl foundation. How or do you help animal shelters lower their number of "put down" method when over crowding happens?
Katherine: My mother and I fund programs to deal with this directly! We pay for free spay/neuter days so that anyone with a pet they can't afford to spay or neuter has the opportunity to do so and we have started to see some real progress in the decrease of animals entering the shelters in the areas we target. We also fund transport programs that take hundreds of smaller, healthy adoptable dogs and cats out of the state of California and to no kill shelters where they are easily adopted.
Linda: Do you think the "State of Affairs" writers would ever include a fun drunken bar duet with James Marsden? #Love27Dresses!
Katherine: Oh man that would be fantastic! I'm gonna pitch that idea to them!
Bryan: You've been a well-known cigarette-smoker in the past, yet you've never smoked cigarettes onscreen before, in movies or on TV. Why is that? (BTW, I don't smoke. Just really curious)
Katherine: Honestly, it's not a habit I'm proud of and I would rather not smoke on camera for fear that it might look cooler or more appealing to a younger generation than it is. However if a role really called for it I would consider doing it.
Mariam: What do u use for ur hair ?
Katherine: Just started using the Wen shampoo and I love it!! My hair becomes one big tangled mess after I shampoo and it takes like 10 minutes to comb conditioner through! Wen is like, one step wonderfulness!
Tommy: Who would you say is the most handsome briefer at the CIA?
Katherine: Hmmmm…..probably….Luc….no Dashill. Yeah Dash for sure!
Laura: My favourite character you have played so far is Izzie Stevens (although I love all of them)…favourite movie is Life As We Know It. Which was the most challenging role to play to date?
Katherine: Holly in "Life As We Know It" was probably the most challenging role for me. I had so much going on in my personal life that was life altering and glorious. Our daughter Naleigh had just come to be a part of our family only days before production began and I had vastly overestimated my ability to juggle new motherhood and work! I felt like Holly and I were having almost the same life experience at the same time, but despite the synchronicity it was a struggle for me to focus and lose myself in the character. I was deeply distracted by and longing for the little being waiting back in my trailer, or at home in her crib for me!
Andrew: How Much Action Does State of Affairs Have
Katherine: We are not only showing the inside of CIA and the processes of dealing with threats but also how they are handled. The stories are very much current in relation to world issues and are high stake. So not only do you see the analysis and the decision making but the action in the field.
Mary Jo: Katherine, I'm certainly looking forward to your return to TV! My question is how are you and your family adjusting to LA life compared to UT?
Katherine: We're doing really well, thank you for asking! Naleigh started kindergarten and Adalaide's off to pre-school. Josh is busy writing and producing music and I am working hard on my new show State Of Affairs. We're happy, healthy, and grateful. But we're looking forward to getting back to our oasis in Utah come the New Year!!
Ferrin: Yes please more Stephanie Plums!!! That is my most favorite book. Would you take on Stephanie if they get it turned into a TV series or make more movies?
Katherine: If they decided to make the series into a show I would LOVE LOVE LOVE LOVE to be a part of it in some way! I love the books too and Janet Evanovich is a genius!!
Marvene: You were so good in the hallmark movie. – Love Comes Softly
Katherine: I had such an amazing time making that! I still have very fond memories of my time in Placerville. I loved getting a small movie version taste of Prairie life, and anytime I catch it on T.V it still makes me cry!
Chelsea: Would you ever be on dancing with the stars?
Katherine: Oh man that would be so fun!! Just the outfits alone would do it for me!
Israa: Which movie character was the closest to ur personality ?
Katherine: Well…Jane from ""27 Dresses and I were really in tune. Then there was Holly from "Life As We Know It, I really related to her and what she was going through in her life at that moment. Then there was my silly, goofy faze when I played Jen in Killers". I guess I've had the good fortune of getting to play women, and tell stories that I've deeply related to during each phase of my life!
Rachel: How's State of Affairs different from other shows? Like Covert Affairs also involving CIA
Katherine: The show is very much grounded in reality. We have two former CIA staff as producers. Rodney Faraon served as the Presidential briefer to two Presidents and Hank Crumpton was a former operative. Also we look at the show from the perspective of both analysts and agents – in Langley and also in the field.
Jaz: What is your ultimate goal in saving animals? I love that you have put your heart into helping animals. They need our help!
Katherine: No kill. That no healthy, homeless animal in our shelter system is euthanized. I believe it is achievable.
Marie: According to you, why should we watch State of Affairs?
Katherine: I'd have to say for the intrigue, the relevant subject matter, our amazing cast and their strong performances, the relationships both good, and bad. The action, the heart wrenching, and inspiring moments. The music, the clothes….hmmmm, I could go on and on!
Aakanksha: Loved your role in Ugly Truth are you working or any plan to make a movie romantic comedy wid Gerard Butler?
Katherine: I had a fantastic time making that movie and have so many memories of laughing my butt off with Gerard before, during, and after every scene! There's nothing like having the opportunity to work on a project you love with people you have a blast with! I would love to work with Gerry again someday!
Marie Lina: Do you watch Game Of Thrones?
Katherine: Yes!
Meowow: I network Foster Animals/Lost & Found California and share with all, is there anything new on the Horizon with your animal welfare work?
Katherine: We are always looking at funding programs and initiatives to help reduce overpopulation in shelters and to stop the killing of healthy adoptable animals. We recently relaunched Just One at http://justonepet.com – all of the proceeds my Foundation receives goes towards helping animals that have been abandoned, neglected and abused.
Josh: I absolutely loved you on Roswell. That show is still one of my top favorites even after all these years. My question to you is: What was your experience like during those years, and do you ever miss playing the role of Isabel?
Katherine: I love that you loved that show! It was my first series regular role on television and I was YOUNG!!! We did the pilot when I was 19 and finished the series by the time I was 23 I think? It was a crazy, exhilarating, and special time in my life. I'll always be grateful for the opportunity to play Isabel and work with such a fantastic cast. I learned a lot about myself as a performer, lessons that are invaluable to me today!
Brandon: What has been the most challenging thing you've had to overcome with your new series State of Affairs? (i.e leaning a new skill, a difficult scene, etc)
Katherine: Speaking CIA, Farsi, Arabic and realistically firing a gun!
Miriam: Hi Katie! What do you think is the strong point of Charlie? And the weak? #stateofaffairs kisses from italy
Katherine: Charlie is extremely clever, intelligent and has great instincts when it comes to her job as a CIA analyst. She's suffered a great loss when the show begins it's story, and she hasn't managed to deal with her grief in a very healthy way. So booze and one night stands have become a weakness for her!
Ala: Why not ugly truth 2 ?
Katherine: That's a fantastic idea! Pitch me the story and I'll try to make it happen!
Båtóòl: hi. Did you know that you have many fans in the Arab world
Katherine: I lOVE IT!!! Thank you!!
Geraldine: Ok Ms Heigl! My question is, have you ever been to Scotland? If you have foreseeable plans for a visit, will you join me for a dirty martini?!!
Katherine: No and YES!!
Aubrey: How are you loving mother hood?!?!
Katherine: It's the best and most important thing I've done with my life…got two incredible girls and thank God everyday I get to be their mother!
Suleiman: What is ur favorite hobby?
Katherine: It's a toss up between knitting and cooking…is reading considered a hobby?
Carlena: Will you revisit your role on Greys if you were asked? Us die hards would love to see you! BTW… can't wait to watch the new show. I love Alfre as well!
Katherine:
I am so incredibly grateful to all of the loyal and wonderful Grey's Anatomy fans. You breathed life into my career with your love and commitment to the show and I owe you A LOT!! I know how disappointing and upsetting it is when your favorite show starts to change and beloved characters leave, because like you I have my favorite shows and favorite characters and am always devastated when they leave. I wish I could tell you that Izzie will come back to Seattle Grace but sadly, and with no lack of care or empathy for your feelings, I can not. I hope Izzie is happy wherever she is and that she was able to build the life for herself I always wished for her. But I, Katherine Heigl, the actress have moved on to tell more and different stories. I have taken everything I have learned from my past experiences and from all of you and tried to build a story and character I hope you can love as deeply and loyally as Izzie
Mark: Will you marry me?
Katherine: Sorry already taken!!
Margarita: Loved you in "Ugly Truth" among other films. You surely have an old Hollywood quality. Any plans for romantic comedies in the style of Catherine Hepburn ? Salutes from Greece.
Katherine: That would be a dream come true!! Give me some ideas I can pitch to the studios!!
Emily: Would you like your children to become celebrities when they get older?
Katherine: Honestly…I'd rather they not be, but I'll support them in whatever they choose to become!
Roland Max: Do you enjoy working with Alfre Woodard?
Katherine: Alfre is one of the most gracious and talented women I've had the pleasure to work with! I can not imagine this show without her and I am so grateful to be her partner in this!
Mohammad: Can you answer all these questions?
Katherine: I think that would be impossible but I am trying to answer as many as I can in the time I have.
Related News:
Katherine Heigl's Live Q&A, November 2nd, 2014
"State Of Affairs" – Social Media Pages, October 17th, 2014
Katherine Heigl On "Roswell", September 16th, 2014