"Outlander" Season 1 Finale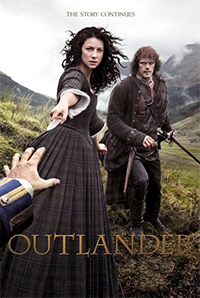 What to watch tonight?
The season finale of Starz' "Outlander" airs tonight at 9 ET/PT. The show from executive producer Ronald D. Moore (co-executive producer and writer on Roswell) covers the entire first book in its first season which now comes to an end.
Tonight's finale episode is entitled "To Ransom a Man's Soul" and it will be "Harrowing, dark, challenging, exciting, true, intense, disturbing and powerful." Those are some of the words the "Outlander" series creator and executive-producer Ronald D. Moore used to describe the show's season one finale when he spoke to Access Hollywood.
He also talked with TV Line about the finale episode and the tough and 'tricky' Jamie-Randall scenes. "The most important thing, fundamentally, was to tell that part of the story as truthfully as we possibly could. This is tricky material, very harrowing material, but we wanted to play the truth of what really happened between these two… and to find that line where you're neither being gratuitous, and you're not shying away at the same time — where you're showing what needs to be shown, and you're not afraid of it, but you're not reveling in it."
Make sure to watch an exclusive sneak peek below and read the articles in full and don't worry "Outlander" will be back with new episodes on Starz. A second season was ordered after just one episodes aired on the channel. Season two will be based on "Dragonfly in Amber", the second book in Gabaldon's best-selling series.
The final moments are almost here. Don't miss this exclusive sneak peek into the season finale of @Outlander_STARZ. http://t.co/4ySoVSNhc5

— STARZ (@STARZ_Channel) May 30, 2015
'Outlander' Finale Preview: Ronald D. Moore On Preparing The Audience, Approaching Wentworth Material
Outlander Stars, EP Talk Finale's Tough, 'Tricky' Jamie-Randall Scenes
Related News:
#SaveHelix, May 30, 2015