Sappleby.com reports, that the first season of Lifetimes' new scripted series "UnREAL" will be released on DVD (plus Digital HD) on January 26, 2016 from Lionsgate Home Entertainment.
In addition to the ten episodes of the first season, the DVDs will include "Over 25 minutes of bonus features never before seen on TV!"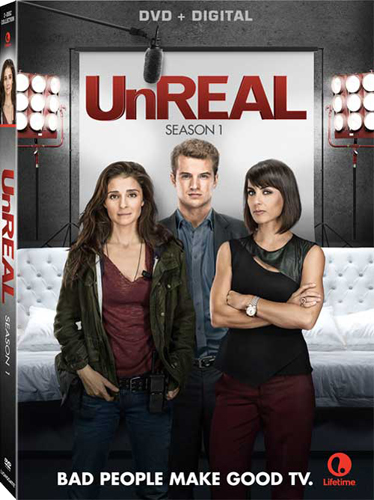 The Lifetime drama is a fictitious look at the production of a dating reality show called "Everlasting", and it stars Shiri Appleby as producer Rachel Goldberg. Please read Sappleby's full article here: UnREAL DVD News and find out more about the DVD special features.
The show will return to Lifetime next year. Pre-order your own DVD here.
Related News:
PaleyLive: An Evening with the Cast & Creators of UnREAL, August 17th, 2015
Listen To Ryan Reynolds & Watch UnREAL, June 18th, 2015
UnREAL #AMA on Reddit – Transcript June 8th, 2015, June 9th, 2015
Everyone Talks "UnREAL" – Part 2, June 1st, 2015
Everyone Talks "UnREAL", May 31st, 2015