"Franklin & Bash" – Shiri Appleby is a Guest Star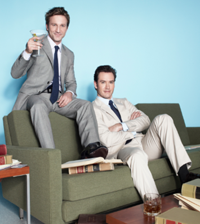 Shiri Appleby is going to visit the Law Offices of "Franklin and Bash" this summer.
While fans of the web-series "Dating Rules From My Future Self" can watch Shiri in the eighth episode today, the actress is currently on set of the TNT show "Franklin and Bash". The busy actress wrote on Facebook "Headed to work for day #2 on Franklin and Bash!! Do you think I'm a Franklin or Bash kinda girl?"
Visit her official and public Facebook page here and answer that tricky question. In addition, Shiri added a gorgeous new profile photo to her official Facebook page, so be sure to check it out!
The TNT show "Franklin and Bash" will return this summer with new episodes. For news and updates on the lawyer series visit www.tnt.tv/series/franklinandbash/ and follow them on Twitter and Facebook.