5 Senses of Fear – Meet the Makers – TV Spot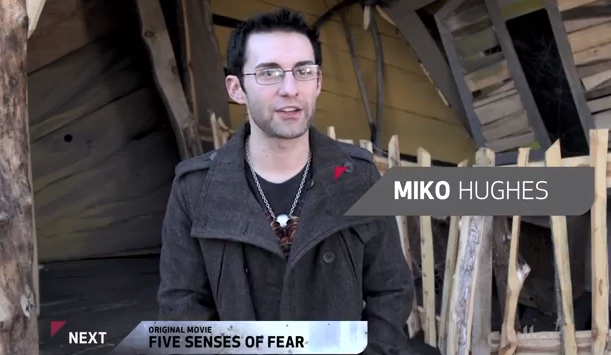 "Five short films – Five groundbreaking visions – Five reasons to be scared senseless!"
"Chilling Visions: 5 Senses of Fear" is set to debut on May 31st, 2013 at 9 pm ET.
Miko Hughes wrote and directed a short film for Chiller's new anthology series. Please read more about Miko's directorial debut below and make sure to watch the TV Spot "5 Senses of Fear – Meet the Makers" on YouTube.
From ChillerTV.com:
Miko Hughes (See)

5 Senses of Fear marks Miko Hughes' directorial debut.

A working actor since he was 22 months old, Miko has compiled a resume that includes over fifty commercials, nineteen television shows, nine TV movies and 10 feature films.

After making his motion picture debut in Stephen King's Pet Semetary, Miko received worldwide attention as the precocious child who informs Arnold Schwarzenegger of the difference between boys and girls in Kindergarten Cop. Moviegoers will also remember Miko as Danny DeVito's kidnapped son in Jack the Bear, and as Billy, a little boy with a big imagination (especially when it comes to vampires) in Cops and Robbersons. One of Miko's most iconic roles was battling Freddy Kruger as Dylan Porter in Wes Craven's New Nightmare. In Mercury Rising he portrayed an autistic child. Miko also played Jeff Lovell in Apollo 13.

On television, Miko is best known for his recurring role as Aaron on ABC's long-running situation comedy Full House. Among his other TV credits are memorable guest appearances on Roswell, Boston Public, Baywatch, Touched by an Angel, Beverly Hills 90210, The Nanny, Melrose Place and Doogie Howser M.D., among others. Recently, he was seen on the Chiller network television movie Remains. Miko, no stranger to the horror genre, has been spotted recently on various specials and documentaries offering insight into what makes a good scary movie.

Miko lives in Los Angeles, and in his downtime enjoys DJing, playing poker, Snowboarding and beekeeping.
Related News:
Chilling Visions: "5 Senses of Fear", September 19th, 2012