Happy #FollowFriday Roswellians – Part 6
This is the sixth edition of the "Happy #FollowFriday Roswellians" posts. If you've got a Twitter page please make sure to follow the amazing "Roswell" cast and other related pages on the micro-blogging service. Furthermore, you can receive news and updates about new projects on Twitter.
Please make sure to follow the brand new Twitter page for Brendan Fehr's new show "The Night Shift": @NBCNightShift. In addition, Adam Rodriguez is back at CBS with a role in "Reckless". Please follow @RecklessCBS for everything about the new cop series.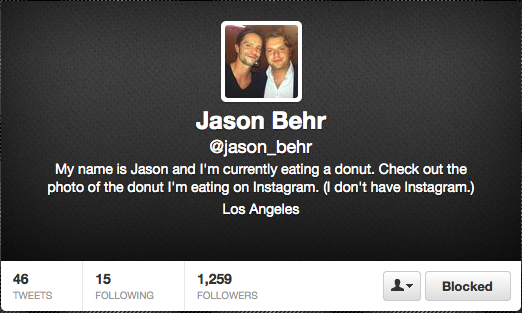 Unfortunately fake accounts pop up every day on Twitter. Some impostors are harder to identify than others, but we would like to give you a hint that @jason_behr is probably * a fake account.
Trick or Tweet?

His wife @KaDeeStrick is NOT following @jason_behr …
… but she follows his brother.
Aaron Behr follows his sister-in-law, but not his brother?
* KaDee Strickland clarified that Jason Behr is not on Twitter. "FYI- @jason_behr is not the official Jason Behr, my husband & the "baby daddy". We aren't affiliated with this person."
Please check out the links below and join us in this weekly international event and recommend them to your friends. On Crashdown's Twitter page, @crashdown.com, you can subcribe to the "Official", "Projects" or "Fanrun" list, as well.
Happy tweeting and #FF love!
Official Twitter Pages