"Revenge" & "OUAT" Season Premiere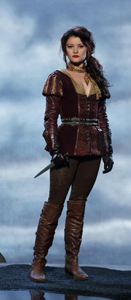 The wait is almost over! "Once Upon a Time" and "Revenge" are back on ABC tonight with brand new episodes. ABC is leading into the new episode "Heart of the Truest Believer" with a "Once Upon a Time" one-hour series recap, followed by the season premiere of "Revenge":
7:00 pm | Once Upon a Time | Journey to Neverland
A series recap includes Mary Margaret and Emma's separation from their new-found family, Regina's plan to become The Dark One and Henry's kidnapping.

8:00 pm | Once Upon a Time | Heart of the Truest Believer
Unfriendly mermaids threaten those searching for Henry in Neverland; Henry and another escapee from Peter Pan's encampment go on the run; a still-recovering Neal travels the enchanted forest with Mulan in search of Emma's and Henry's fates.

9:00 pm | Revenge | Fear
Emily's quest for revenge is renewed; the return of Victoria's son changes and complicates the Grayson family.
Please visit the official ABC website and watch a Once Upon a Time Season 3 Premiere Preview as well as Revenge's Season 3 Preview: Bloody Wedding.
They also offer a Season 2 Recap & Season 3 Super Trailer. Check it out and get ready for the season premiere.
Related News:
First Look! – "Revenge" Season 3 Promotional Photos, September 15th, 2013
Will. Sean. Podcast? Episode 83 "Stupid Spoilers" Features Nick Wechsler, September 13th, 2013
Emilie de Ravin Reached 100k Twitter Followers!, September 10th, 2013