15th Anniversary Reunion Panel at ATX Festival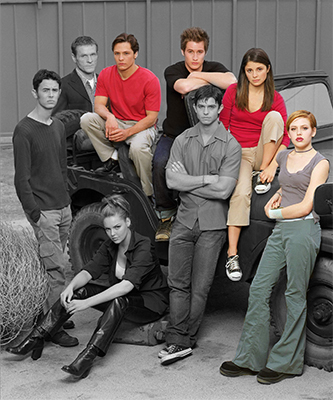 Jason Katims, Brendan Fehr, Nick Wechsler and Shiri Appleby are confirmed to attend the Roswell Reunion Panel at the third Austin Television Festival this June!
ATX Television Festival 2014
The festival is held in Austin, Texas from June 5-8, 2014.
Date of the Roswell reunion panel is on Sunday, June 8 at 11:30 am (Alamo Ritz).
15 Year Roswell Reunion
Sunday 6/8, 11:30 am
Alamo Ritz
Attending: Jason Katims (Executive Producer)
Cast: Shiri Appleby, Nick Wechsler, Brendan Fehr, Majandra Delfino, TBA
Moderator: Ben Blacker
For Tickets and more information, please visit the official website: www.atxfestival.com
Official Website &
Social Media Links
www.atxfestival.com
www.facebook.com/ATXFestival
www.twitter.com/ATXFestival
www.instagram.com/atxfestival#
www.youtube.com/user/ATXFestival
Confirmed Attendees
Jason Katims
Brendan Fehr
Nick Wechsler
Shiri Appleby
Majandra Delfino
Cross your fingers that more members of the cast and crew will join the Roswell panel!
From the official ATX Newsletter:
[…] Next Friday (5/23) we will open our Fast Pass/Reservation system. Badgeholders will get an email from our ticketing partner Prekindle with reservation codes and a more detailed description on the process. Remember that Weekend badgeholders get (3) Fast Passes for the weekend (use them all one day, or spread them out), and that only a portion of the theater is reserved to Fast Passes, so even without them you will have an opportunity to attend.

GUIDE LINK
Contribute Photos, Videos, Reviews
Many Roswell fans from all over the world don't have the chance to be a part of the Roswell Reunion. If you are lucky enough to attend the TV Festival this June, please consider constributing photos, videos, reviews, etc. to Crashdown.com. You are more than welcome to share everything about your ATX experience.
Full credit is always given. Tweet @crashdowncom or just send an E-Mail!
Submit Roswell Related Articles
If you just started your Roswell Rewatch and you can't get the show or a Roswell related topic out of your head, please go ahead and write an article about it. Guest entries are more than welcome!
Facebook
Unofficial Facebook Event Page for the Roswell Reunion Panel at ATX
Facebook Group for fan meetings: 15Yr Roswell Fan Reunion ATX Festival, Austin TX
Other Cast/Crew Related Panels at ATX
At ATX Fest, there is a panel for "The Night Shift" (with Brendan Fehr) scheduled, as well. Attending: Gabe Sachs (Creator) Cast: Jill Flint, Brendan Fehr, Daniella Alonso, Freddy Rodriguez
Also listed in the "Series" category:
PARENTHOOD
Saturday 6/7, 4:30PM
Alamo Ritz
Attending: Jason Katims, Ray Romano, TBD (NBC)
FARGO
Attending: Noah Hawley (Writer), Warren Littlefield (Exec Producer); Cast: Allison Tolman, TBA
REVENGE
Friday 6/6, 2:30pm Alamo Ritz
Attending: Nick Wechsler, TBA (ABC)
Moderator: Robyn Ross
RECKLESS (Adam Rodriguez upcoming new show)
Saturday 6/7, 10:30am
Alamo Ritz
Attending: Dana Stevens (Creator), Cast: Cam Gigdandet, Anna Wood (CBS Television)
Moderator: Robyn Ross
THE NIGHT SHIFT
Saturday 6/7, 12:30pm
Alamo Ritz
Attending: Gabe Sachs (Creator) Cast: Jill Flint, Brendan Fehr, Daniella Alonso, Freddy Rodriguez
Moderator: Robyn Ross
… maybe Colin and Adam are going to make it to Austin, Texas, too.
The Press On the Roswell Reunion
'Roswell' Stars to Reunite at ATX Television Festival, Tuesday, April 15, 2014
ROSWELL and THE NIGHT SHIFT Are Coming To ATX 2014, Tuesday, April 15, 2014
ATX Television Fest Lines Up 'Roswell' Reunion, 'The Strain' Debut, Tuesday, April 15, 2014
ATX Television Fest Lines Up FX Premieres, Tuesday, April 15, 2014
Roswell cast reunion announced for ATX Festival, Wednesday, Apr 16 2014
TVLine Items: Roswell Reunion Set, […], Wednesday, April 16, 2014
//Last Edit: May 24th, 2014