Get Excited Roswellians – Roswell Reunion at ATX!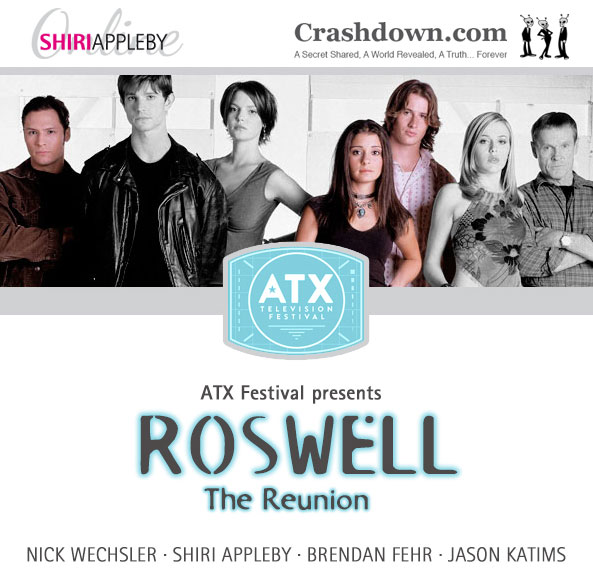 It was one of the biggest surprises when former Roswell actor Brendan Fehr leaked on his Twitter page that there will be a Roswell reunion at the third Austin Television Festival this June. The news was almost too good to be true and spread like wildfire across the Web and among the Roswell fan base.
Get excited Roswellians. The news is true!
Roswell actors Shiri Appleby, Brendan Fehr, Nick Wechsler and show's executive producer Jason Katims are officially confirmed to attend the Roswell Reunion Panel at the third Austin Television Festival this June.
Do not miss this rare opportunity to meet your favourite TV cast and to celebrate with other fans this unique event.
Tickets are available now at www.atxfestival.com for $225.00 (weekend badge).
ATX Television Festival 2014
The festival is held in Austin, Texas from June 5-8, 2014.
Date of the Roswell reunion panel is on Sunday, June 8.
Time to be announced.
Official Website & Social Media Links
www.atxfestival.com
www.facebook.com/ATXFestival
www.twitter.com/ATXFestival
www.instagram.com/atxfestival#
www.youtube.com/user/ATXFestival
Confirmed Attendees
Shiri Appleby
Brendan Fehr
Nick Wechsler
Jason Katims
Related News:
ROSWELL 15th Anniversary Reunion Panel at ATX Festival, April 15th, 2014
Almost 15 Years Later We Still Believe In Roswell – #RememberROSWELL, January 28th, 2014
Roswell Travel Guide by Sherryn, December 14th, 2013
Shiri On Roswell Movie Revival, December 7th, 2013