E!Online Fall TV Preview: A Gifted man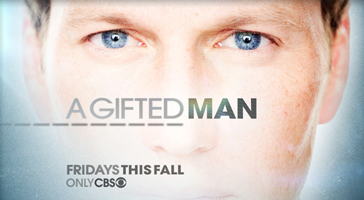 E!Online features a Fall TV Preview for CBS's upcoming new supernatural medical drama "A Gifted Man" with Patrick Wilson, Jennifer Ehle, Liam Aiken, Rachelle Lefevre and Julie Benz.
The new drama centers on Michael (Patrick Wilson), an ultra-competitive surgeon whose life is changed forever when his ex-wife (Jennifer Ehle), a doctor running a free clinic, dies and begins teaching him what life is all about from the hereafter. Julie Benz portrays Michael's sister, an unfocused and overwhelmed single mother with a huge heart.
From E!Online:
[…] None of the pilot's medical cases are mysterious like on House, but the people involved with the patients and the stories surrounding them make them interesting. For example, a young tennis star is pressured by her dad to stay out of the hospital so she can keep winning championships. In the middle of all this, while also butting heads with his sassy secretary (Martindale) and trying to take care of his downtrodden sister (Benz) and troubled nephew, his ex-wife Anne (Ehle) appears. After having a pleasant but tension-filled night catching up, Michael shockingly learns that Anne has actually been dead for a couple weeks. Is he seeing…ghosts? […]

Verdict: Watch. A Gifted Man has enough mystery to keep you coming back each week, and the cast makes this a must-see. Unless you're a Chuck fan, and then we're pretty sure you know how to operate your DVR.
Read the full review here: Fall TV Preview: A Gifted Man Gifts Us With the Presence of Patrick Wilson
Visit the official website here and make sure to tune in on Friday, Sept. 23 8/7c.
Related News:
Julie Benz signed on TNT's two-hour movie "Ricochet", July 30th, 2011
"A Gifted Man" premieres on Sept. 23 on CBS, July 8th, 2011
Julie Benz is getting married!, June 28th, 2011