"Franklin & Bash" – Season 2 Finale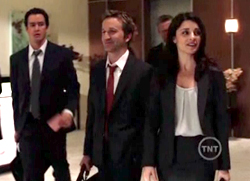 The season finale of "Franklin and Bash" will air tonight, August 14th at 10 p.m. on TNT. The episode is entitled "650 to SLC" and Shiri Appleby is guest starring again.
TV Line just released an exclusive clip from the episode, which you can find here:
Exclusive Franklin & Bash Finale First Look: Shiri Appleby Enjoys Some Top-Secret Lovin'!
Press PLAY below to watch the Life Unexpected alumna and F&B leading man Breckin Meyers attempt to keep their romance under wraps, and then hit the comments with your thoughts on her gushy guest spot.
Don't miss.
Related News:
Shiri Appleby – Recurring Role On "Chicago Fire", August 11th, 2012
Dating Rules – Available On Hulu A Day Earlier, August 8th, 2012
Dating Rules – Time 2 Get Ur Sh#t Together, August 1st, 2012
Shiri Joins HBO's "Girls", July 31st, 2012
Shiri Appleby Guest Stars on "Franklin & Bash", July 30th, 2012